Day 3
The big ride I wanted to do on this trip was off the top of Piute Mtn and down to Kelso Valley on the Woolstaff Meadow trail. Interestingly this trail is cherry stemmed through the BLM Brightstar Wilderness, after going through a big area of remote country.
I stashed the MTB up top the night before and camped down low where it would not be in the 30s. Ready to roll.... I'll be descending from where the trees are way up in the distance.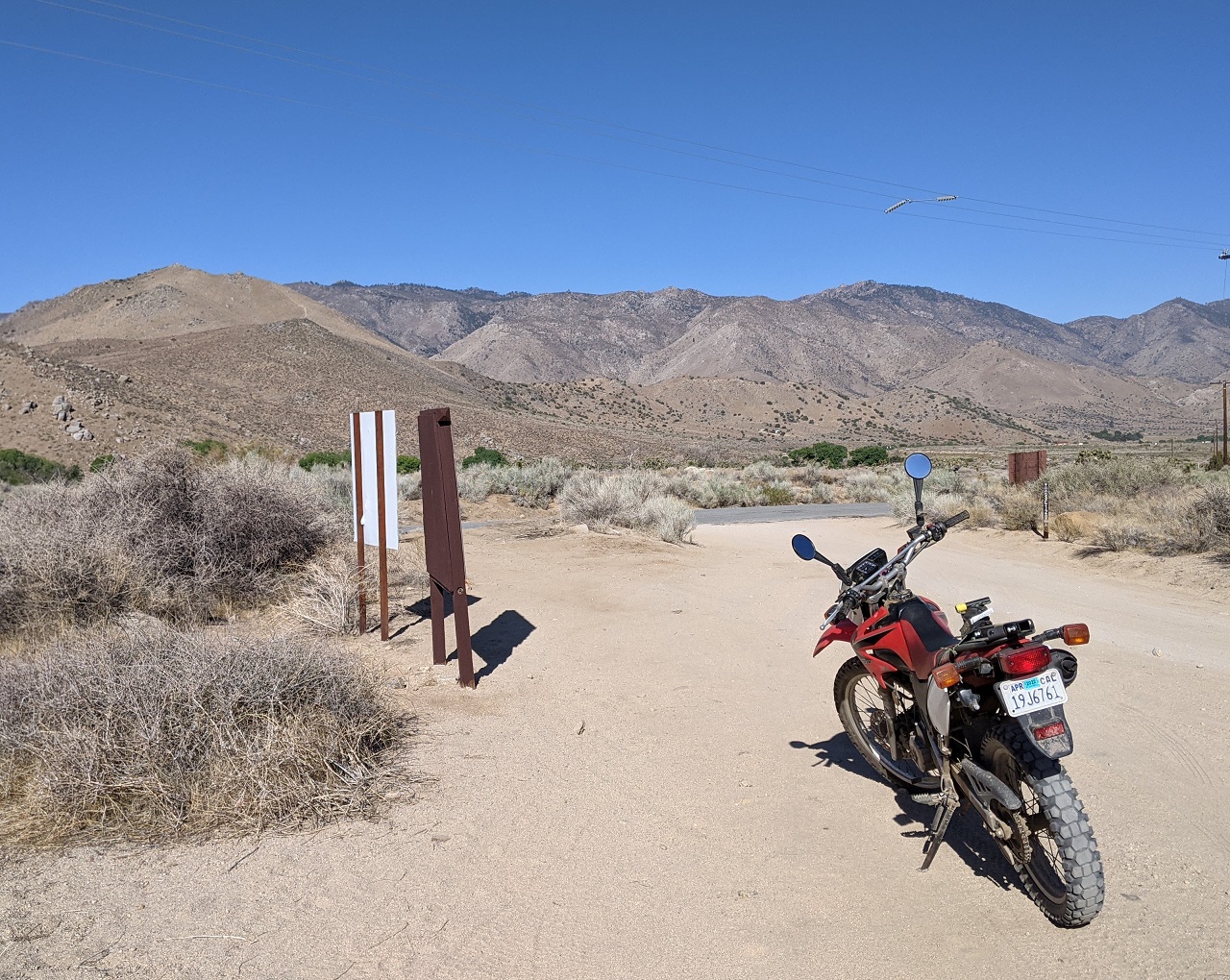 Getting up top, first thing I see is more bear tracks over top my tire tracks from the previous day.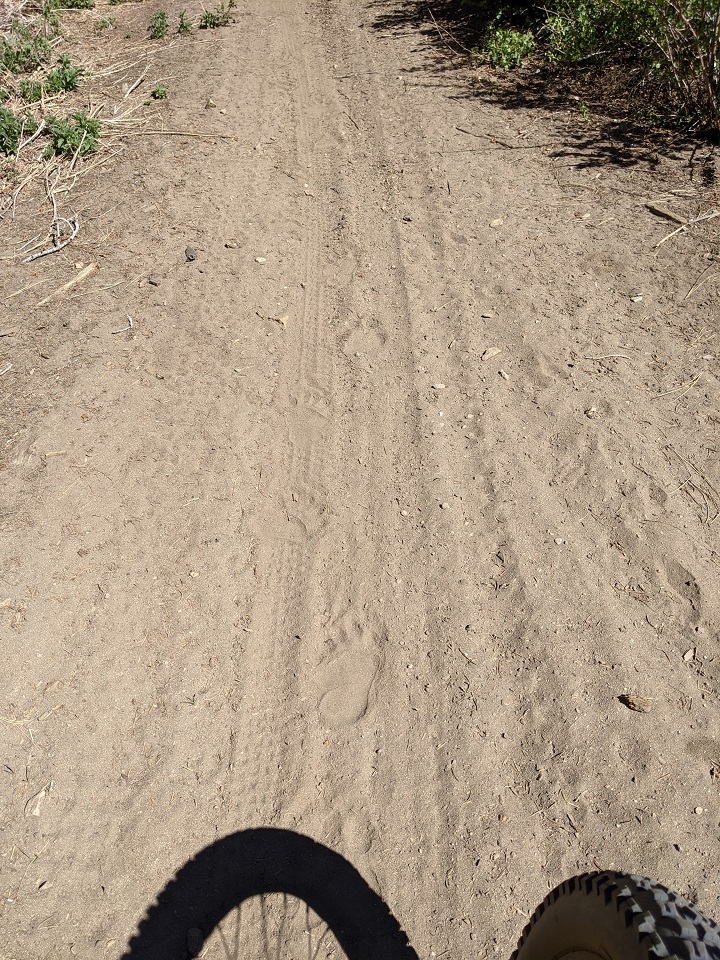 I dropped down one of the trails I'd explored day before and then proceeded uphill.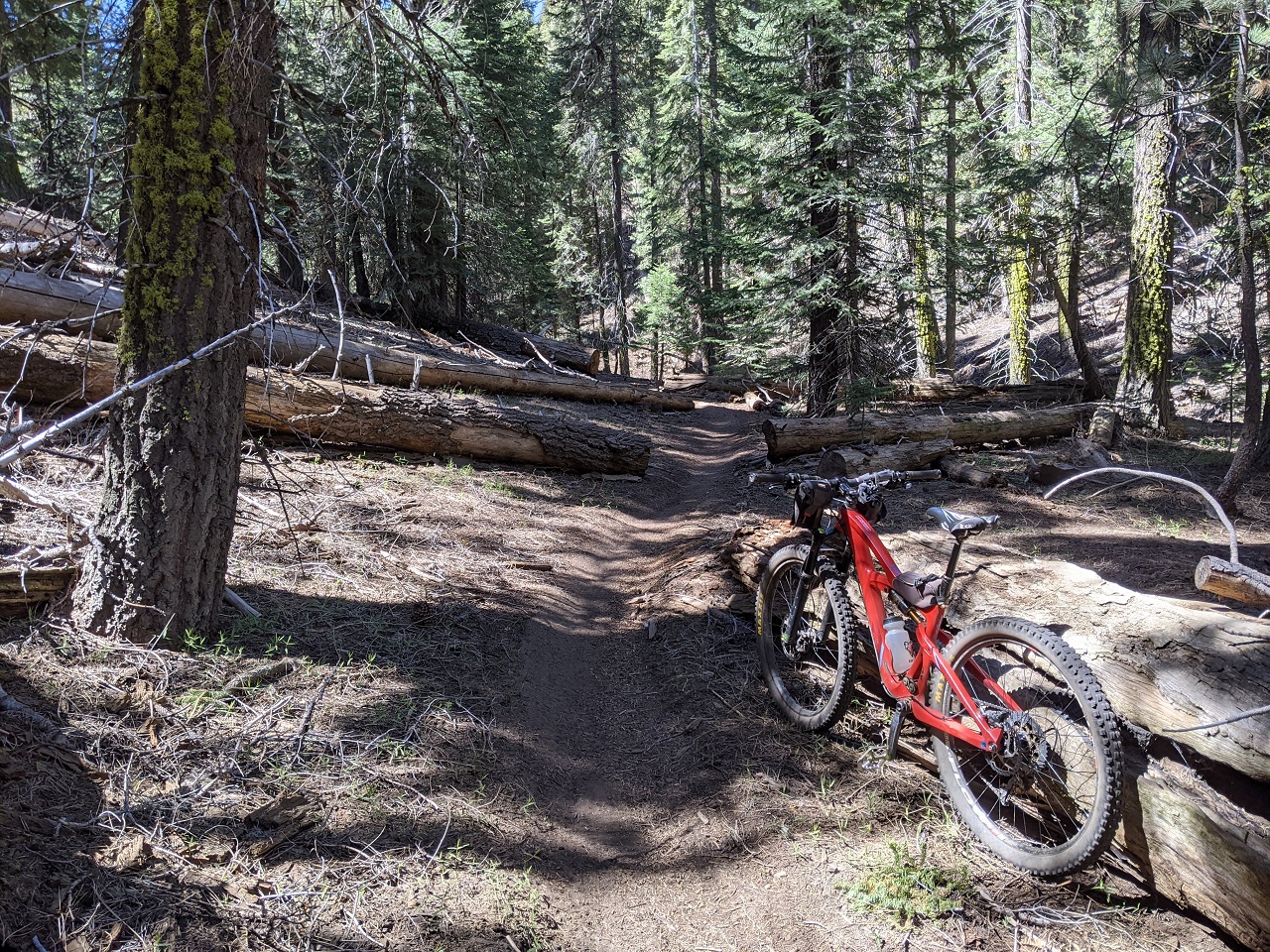 Mostly nice climbing with a few short pushes.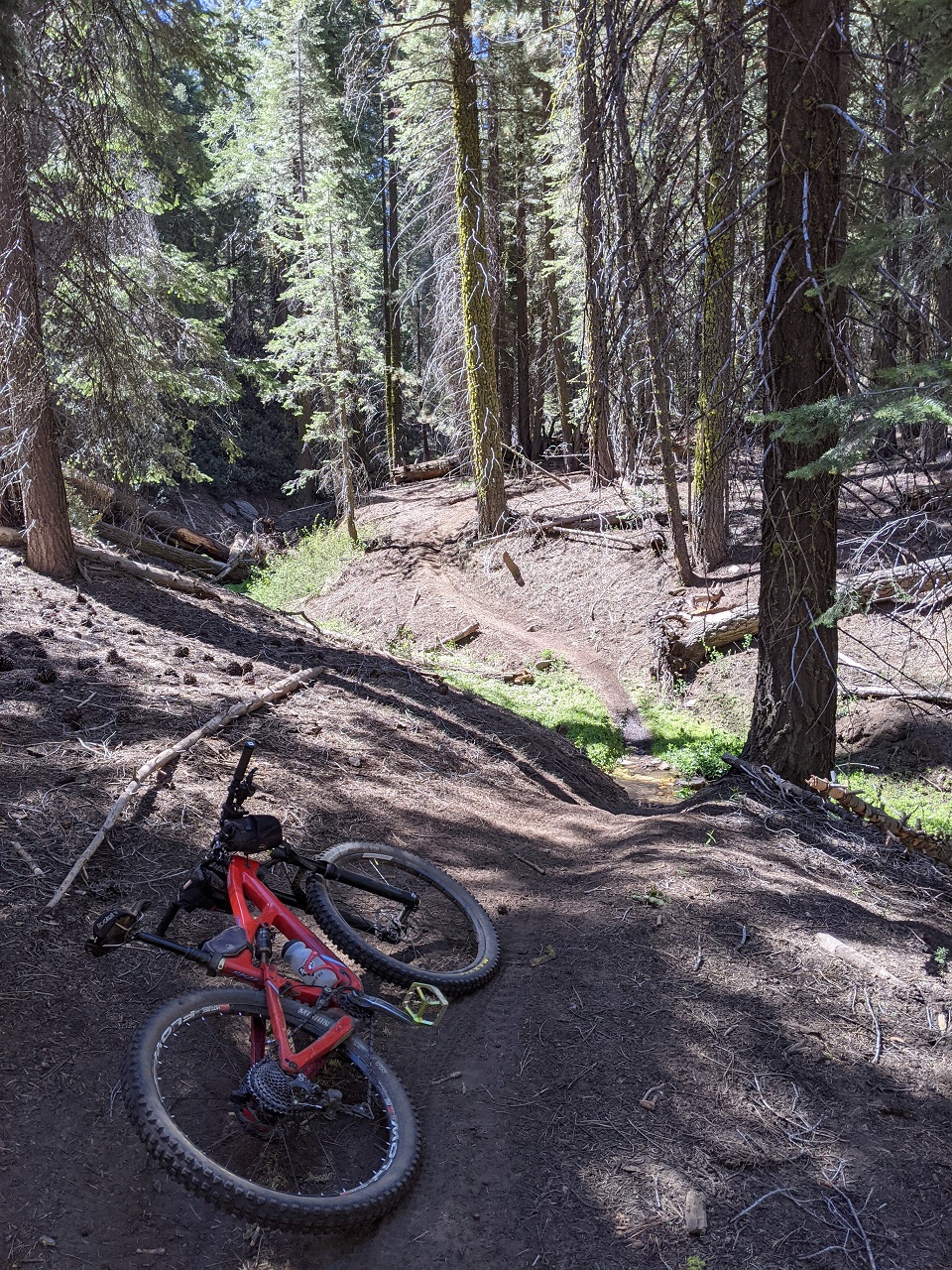 It's a very dry mountain range for the most part, this is one of the few trails where you'll find a stream that flows most of the year.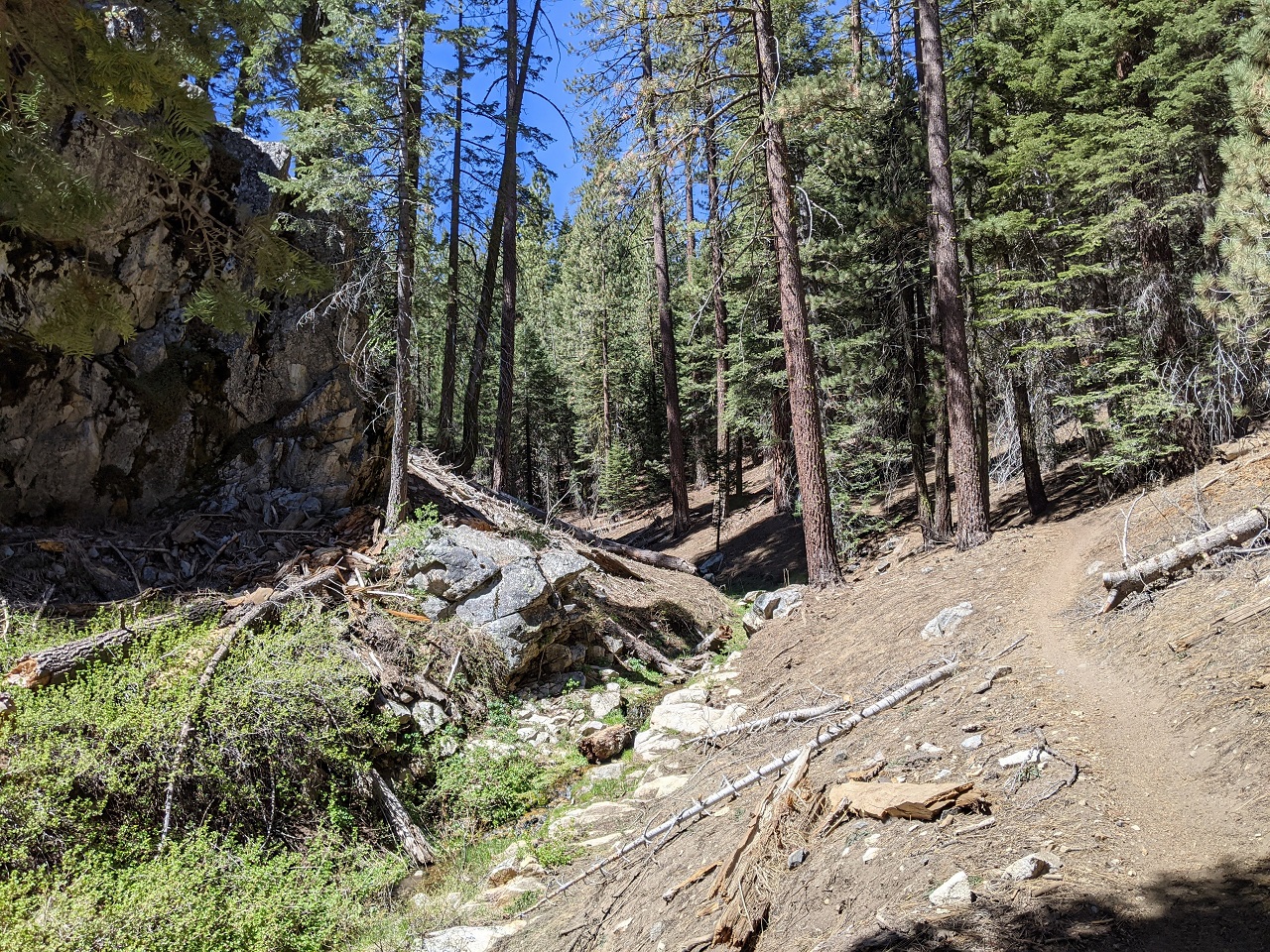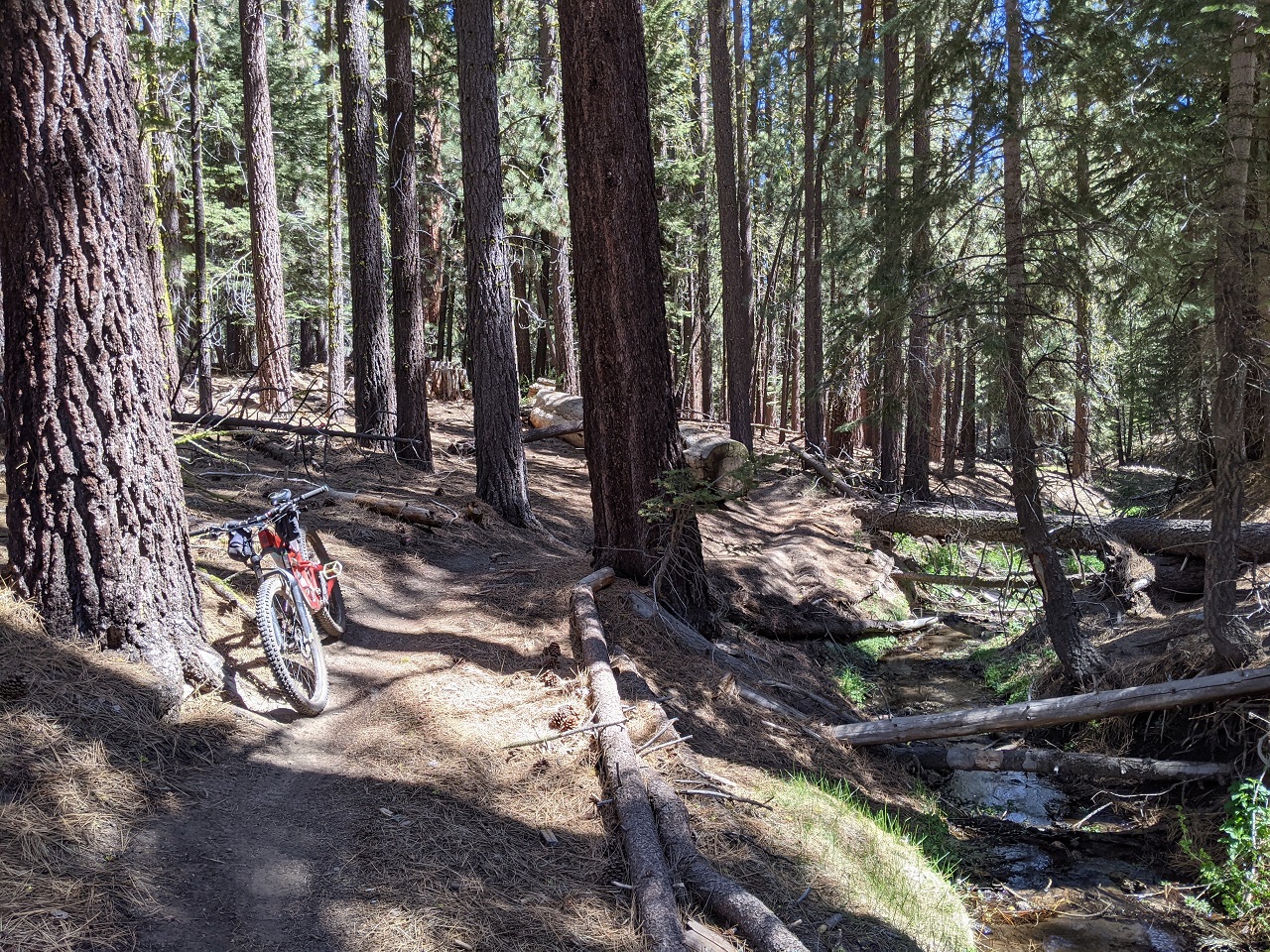 Flowing out of the nice meadow above.
Nice campsite, complete with picnic table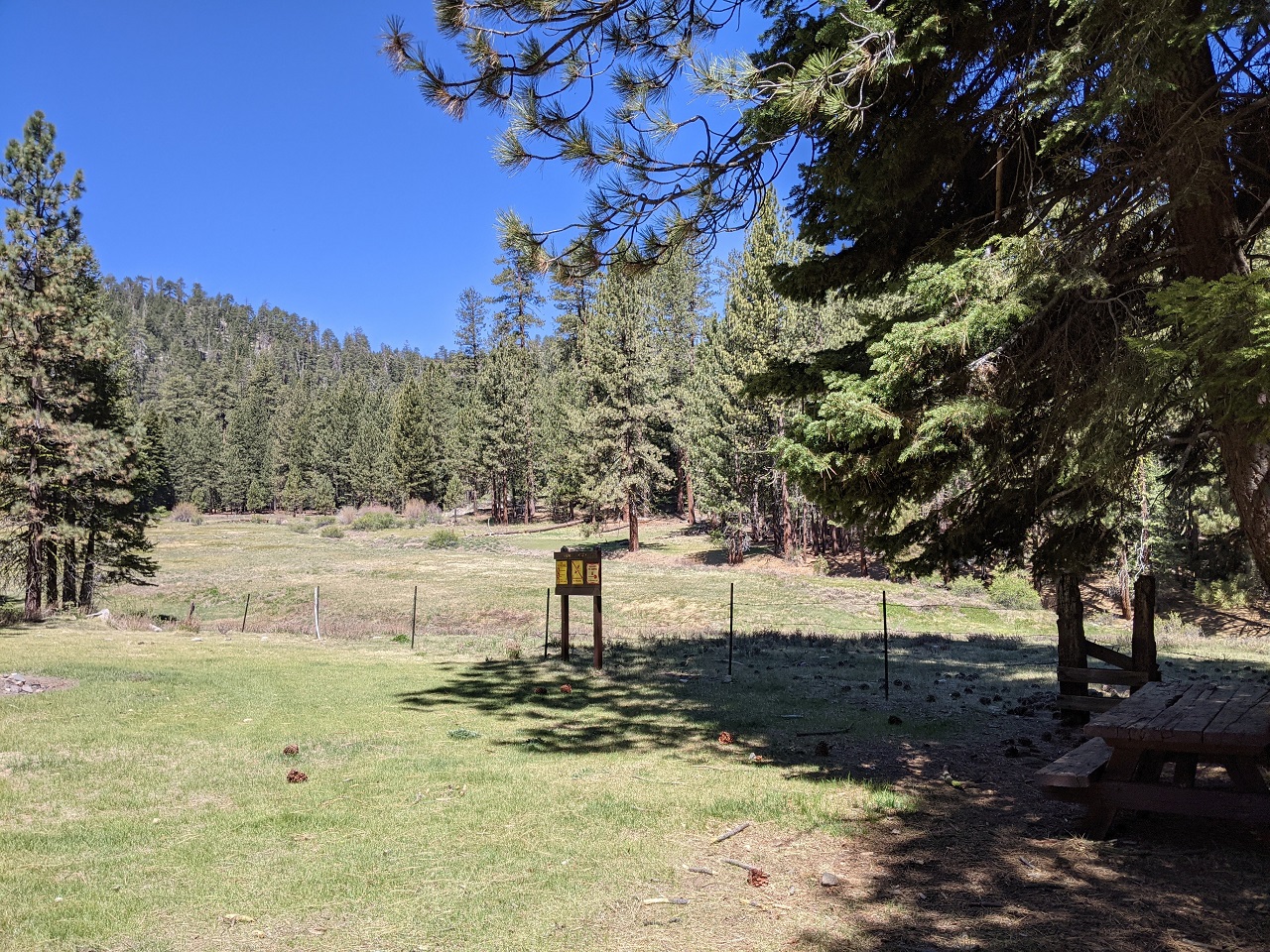 Still a couple miles and about 500ft to go to reach the ridgeline. It was mostly rideable but a few steep spots required pushing.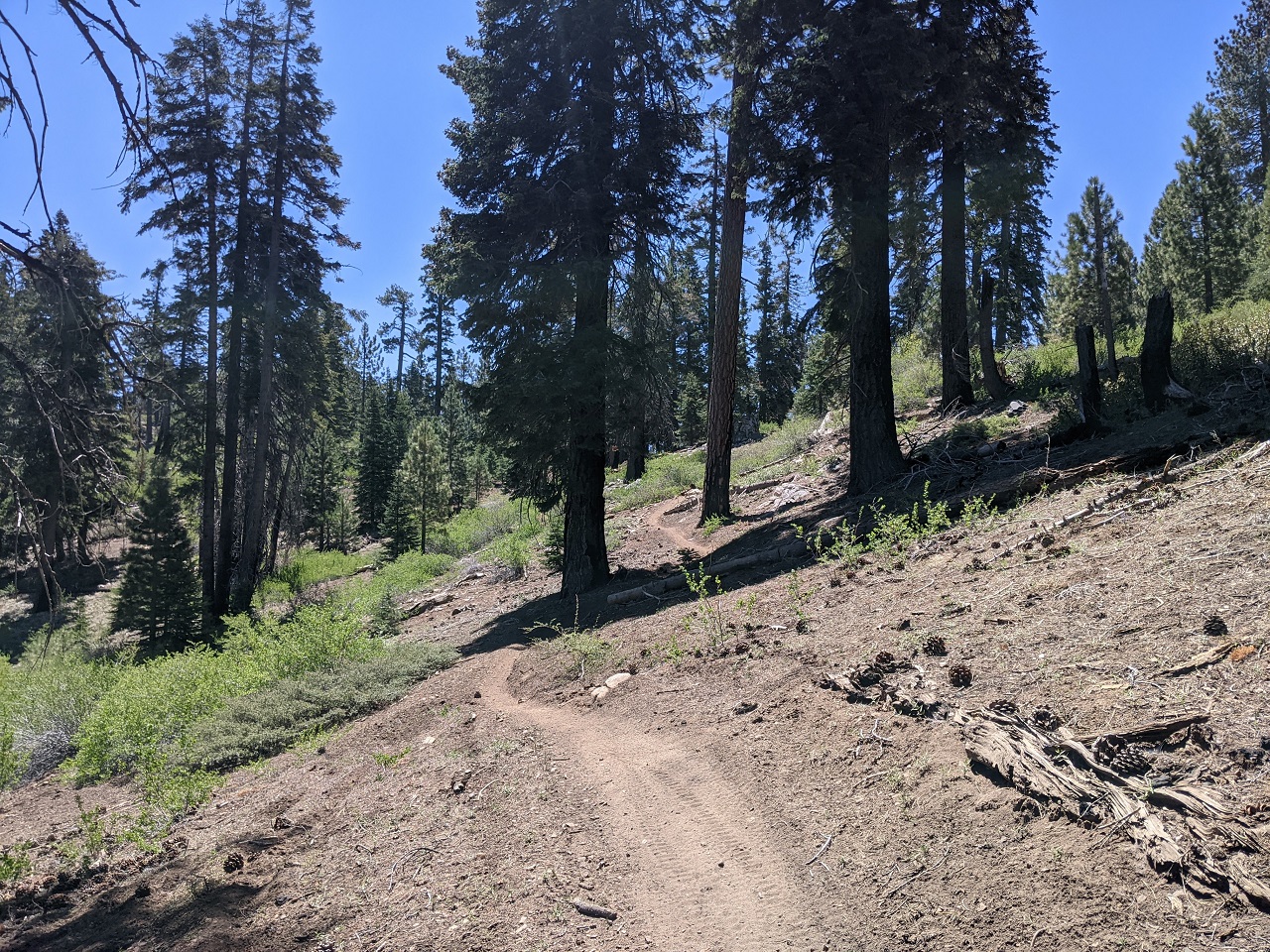 Lots more bear tracks on the trail, and around this sign. Used as a scratching post, it seems to serve both back scratches and exercising claws.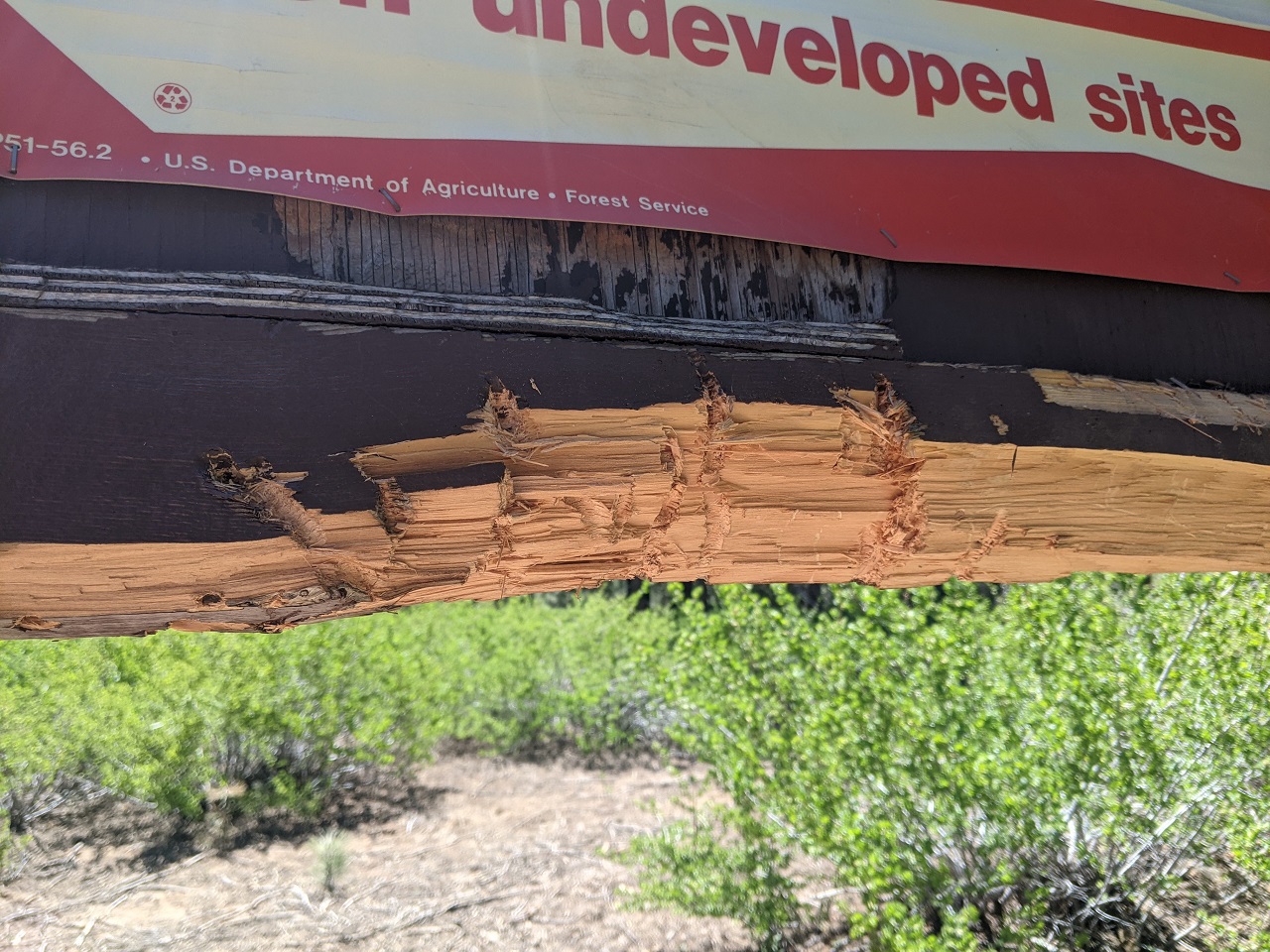 Up top I traversed the ridge top road to the main road and crossed onto the Liebre Mtn trail I rode the previous day. This is the nicer section. Great views and just a bit of hike a bike.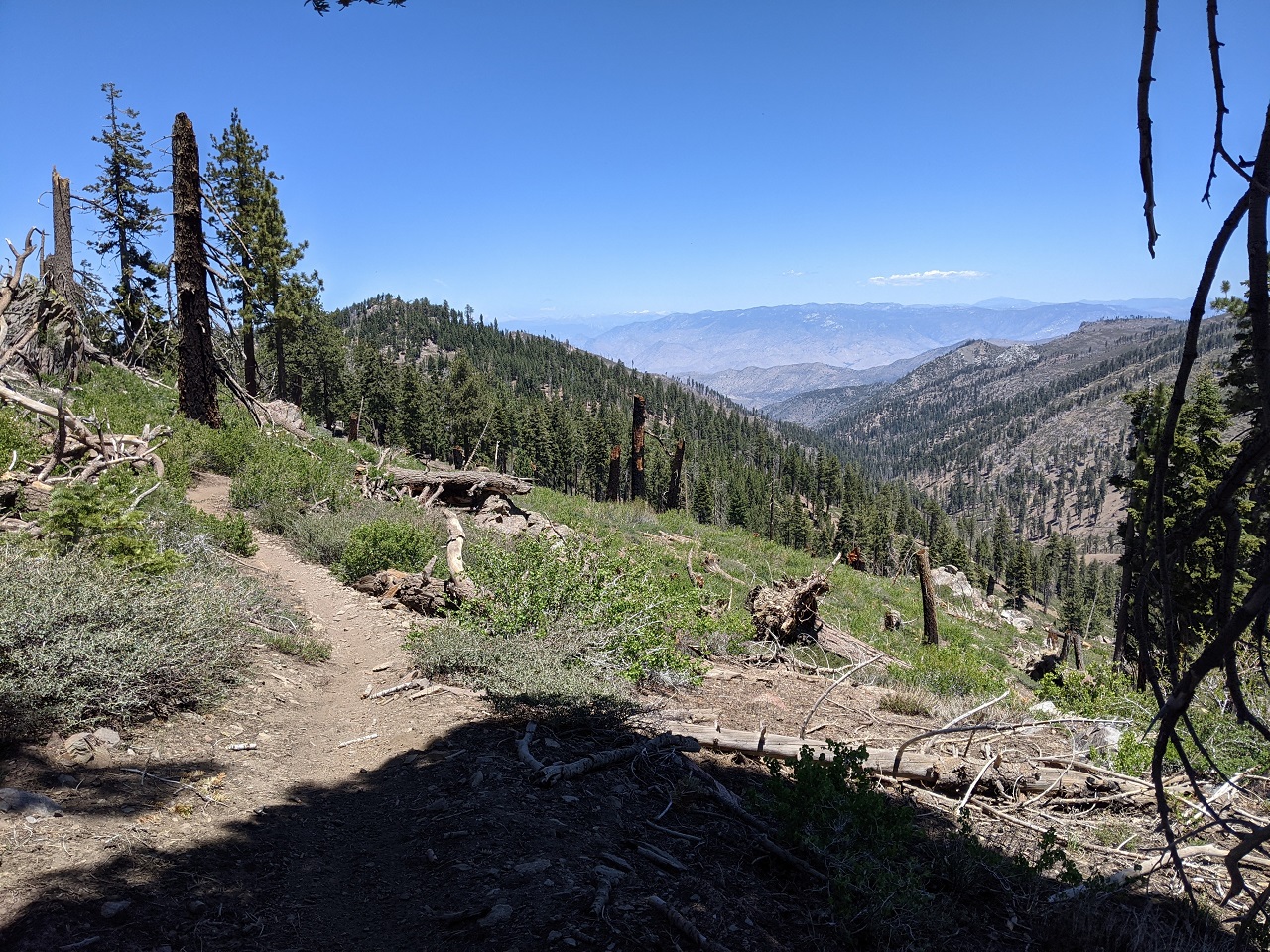 I picked up a few other connector trails and then some fire road further down the hill. Starting up top put me a bit behind on the main part of the ride. Then came a 7 mile dirt road pedal. Lots more bear tracks. In fact, I was seeing tracks on pretty much every trail and road. I checked out a spring half mile off route which was almost dry, then headed back. Spotted some nice looking unmapped singletrack in a few spots. Will need to come back and explore those at some point. Not today!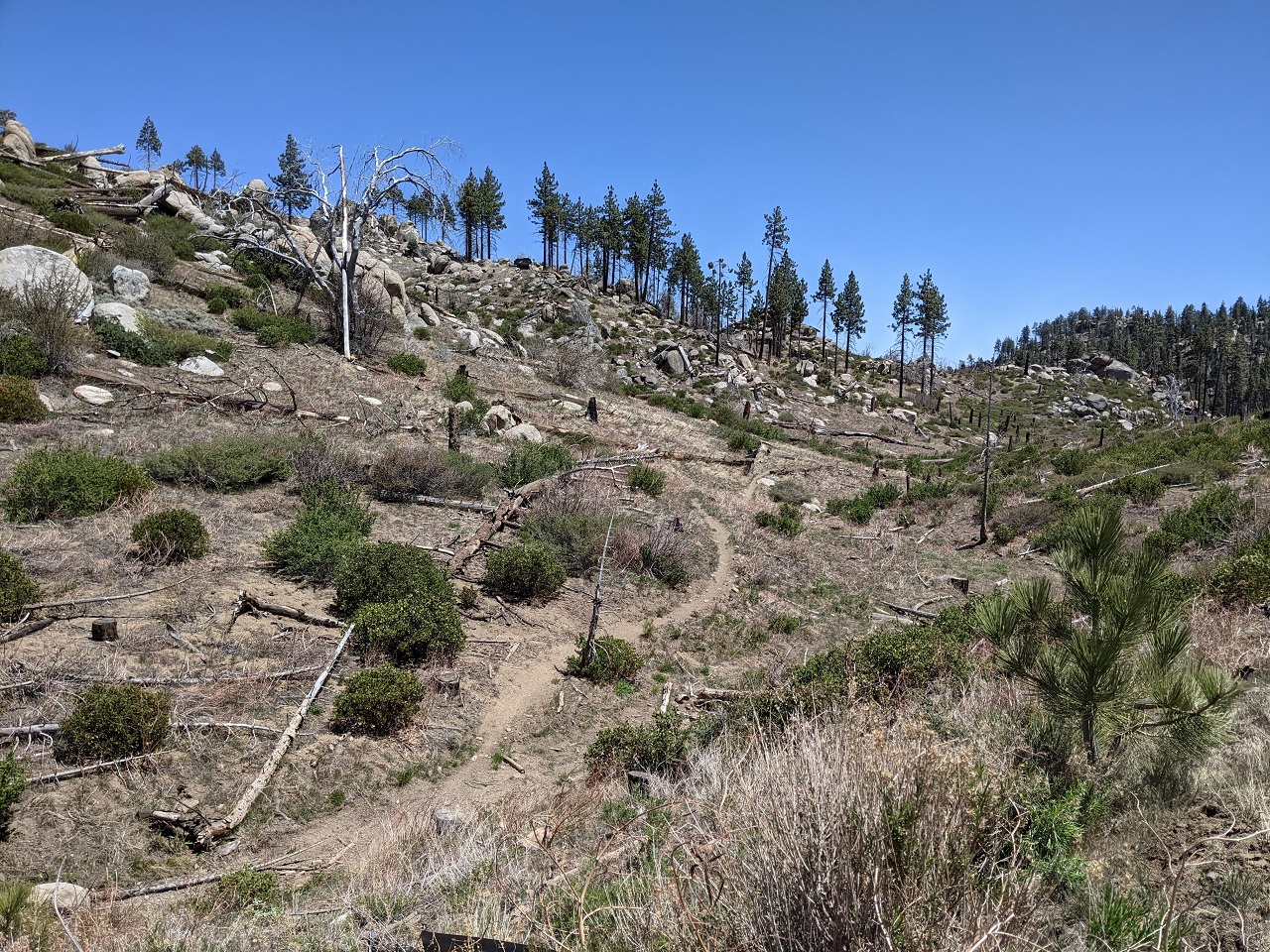 The forest road started to peter out. It was fun riding, trending gradually downhill on rolling forested terrain.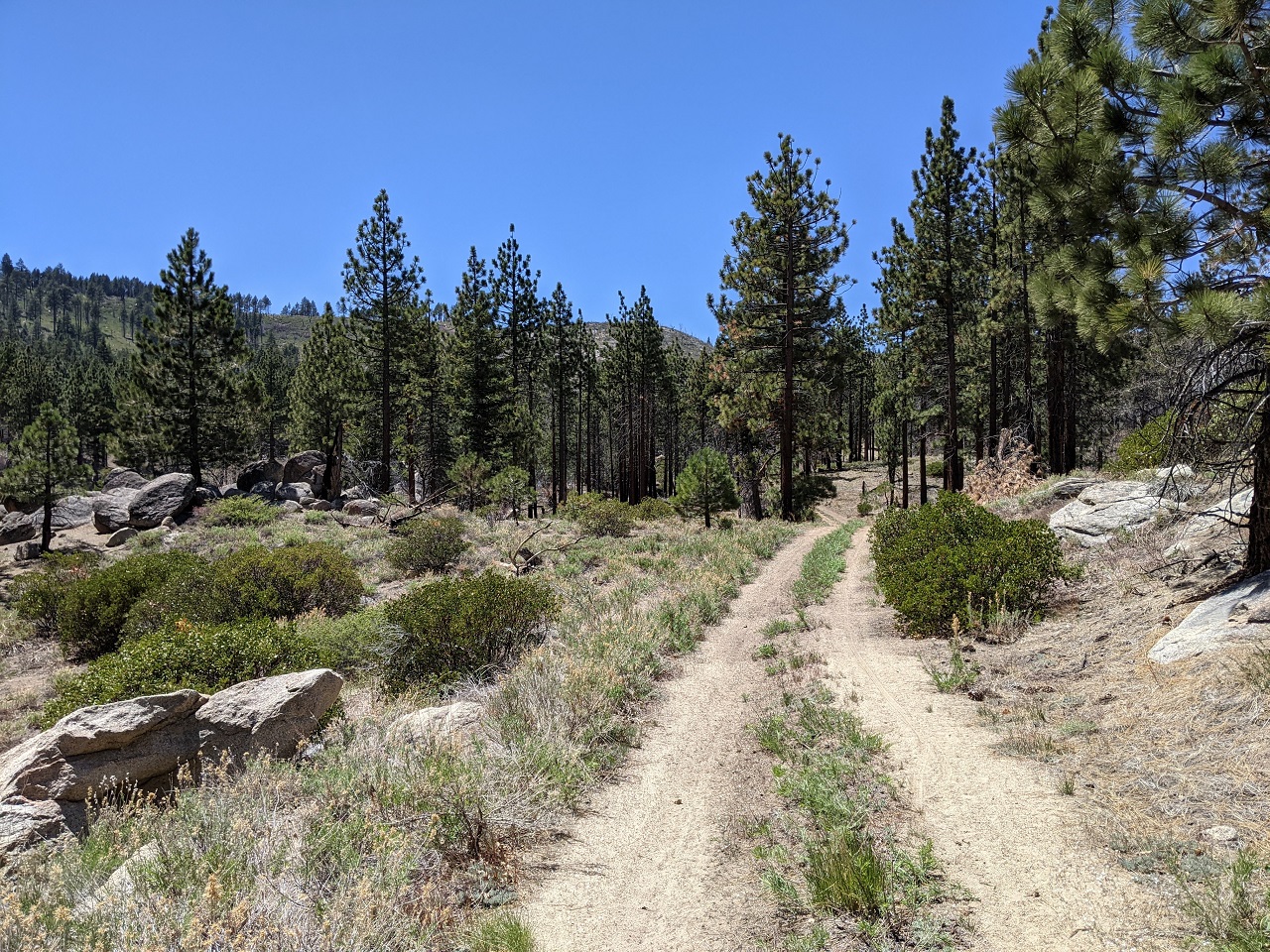 More tracks....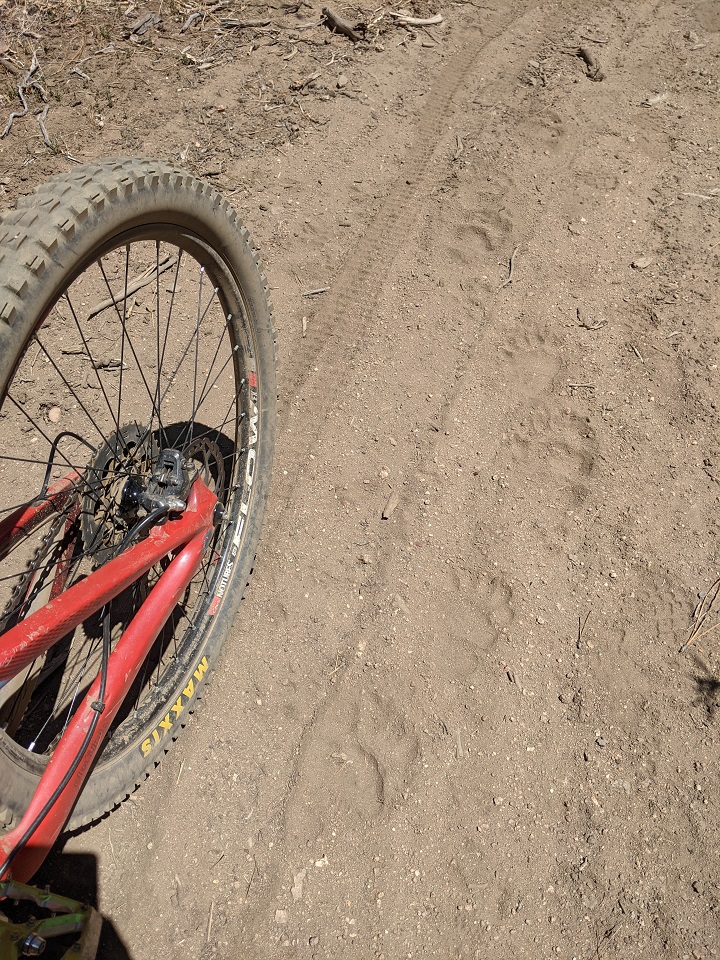 The road had narrowed down to ATV width, and after turning a 180* bend and going up a hill it suddenly ended. Had to backtrack and finally spotted a narrow opening in some bushes where the singletrack continued off the bend. After some up and down that was overgrown, things opened up and it got nice for a while.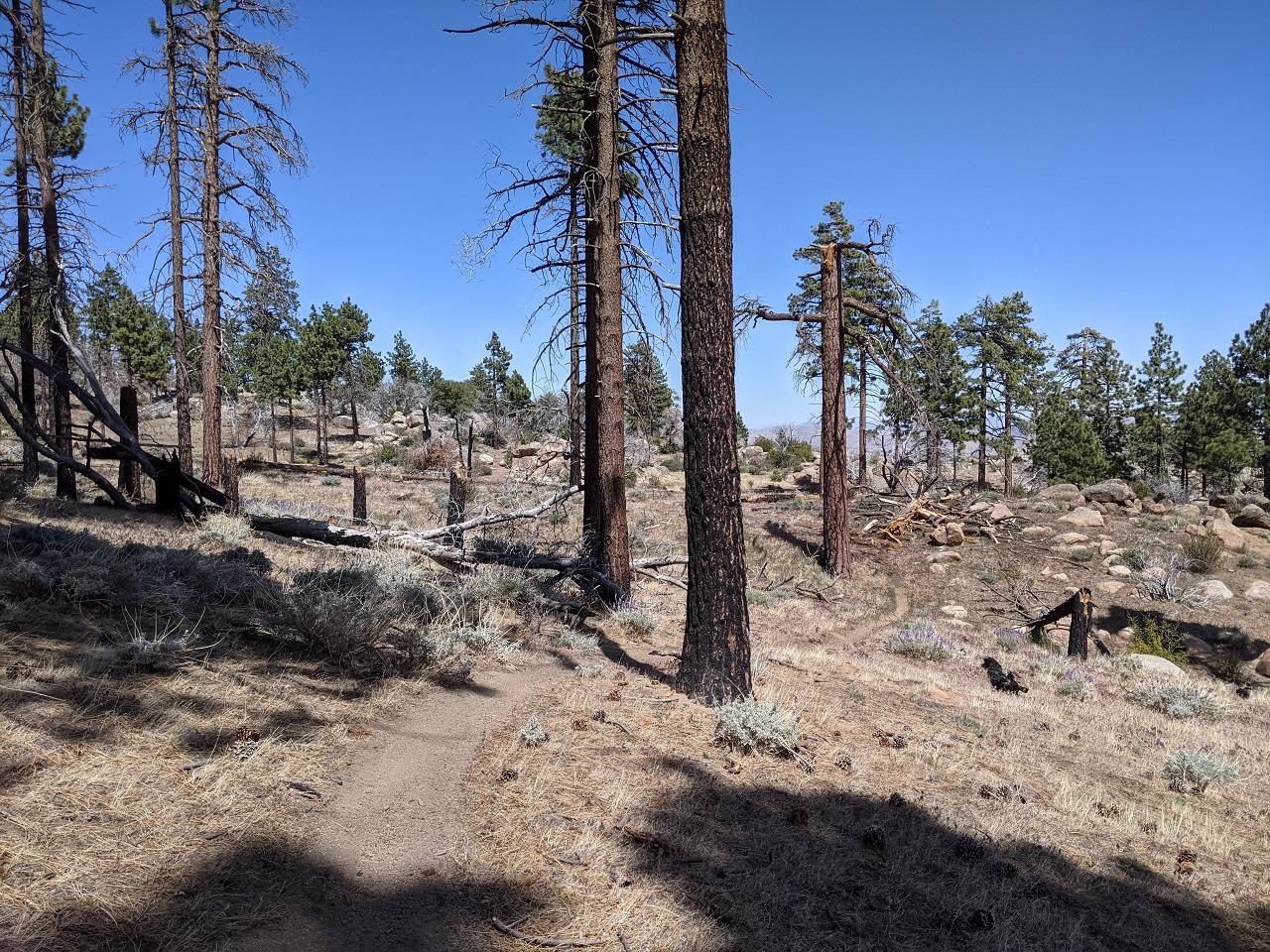 About to drop down into this valley and then climb all the way back out. Steep, loose chunder for about 500ft down in 3, 2, 1...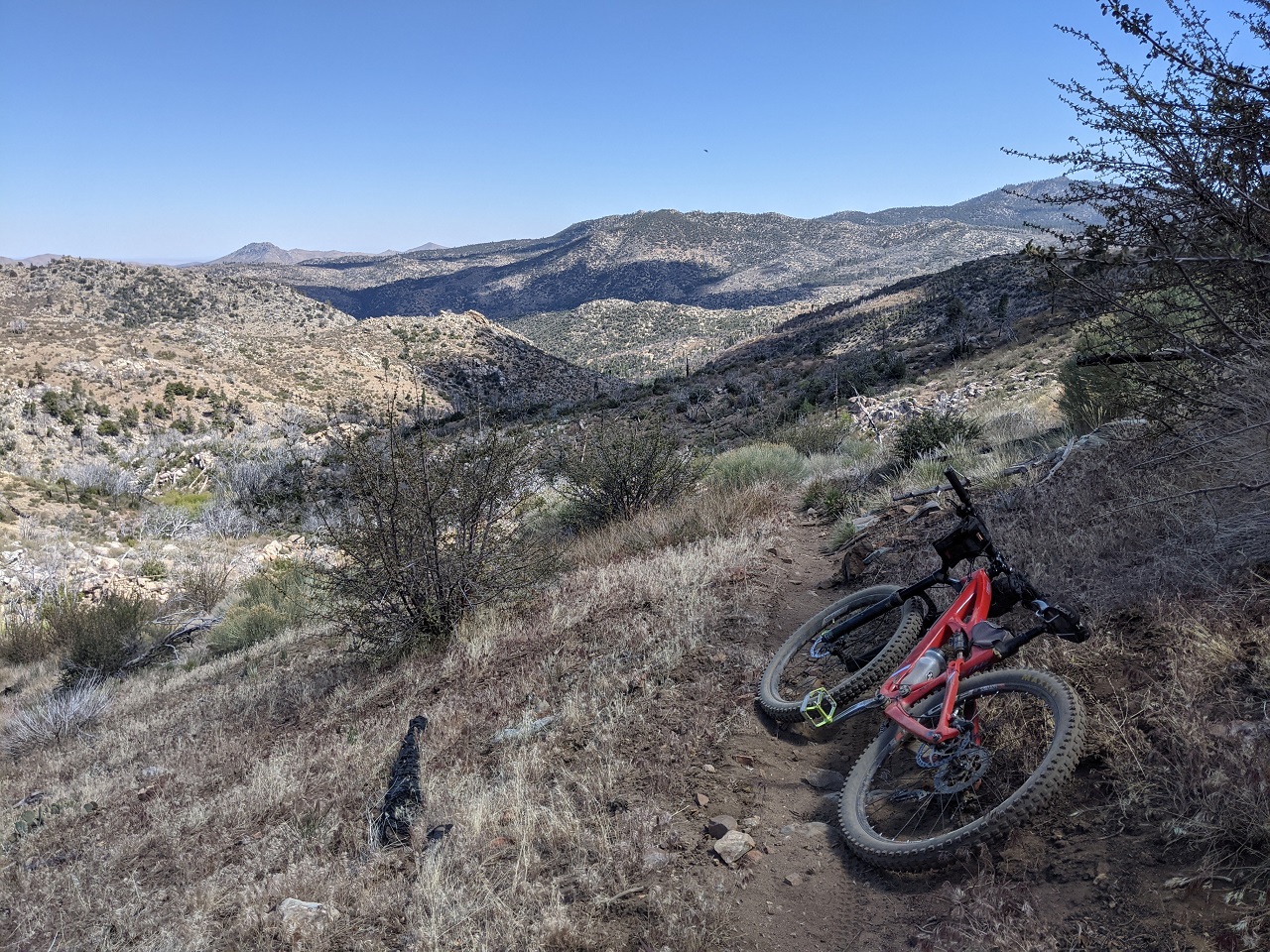 The climb out was 700ft in about a mile, and maybe 1/3 rideable. At the top, the trail got nice again.
I actually skipped a long segment of Woolstaff Meadow trail where it does a huge loop around to the north. The spot below was where that loop joined up with the unmapped trail I'd been riding. I'd been going off what I'd found on satellite as an alternate loop route, which conveniently made a nice shortcut.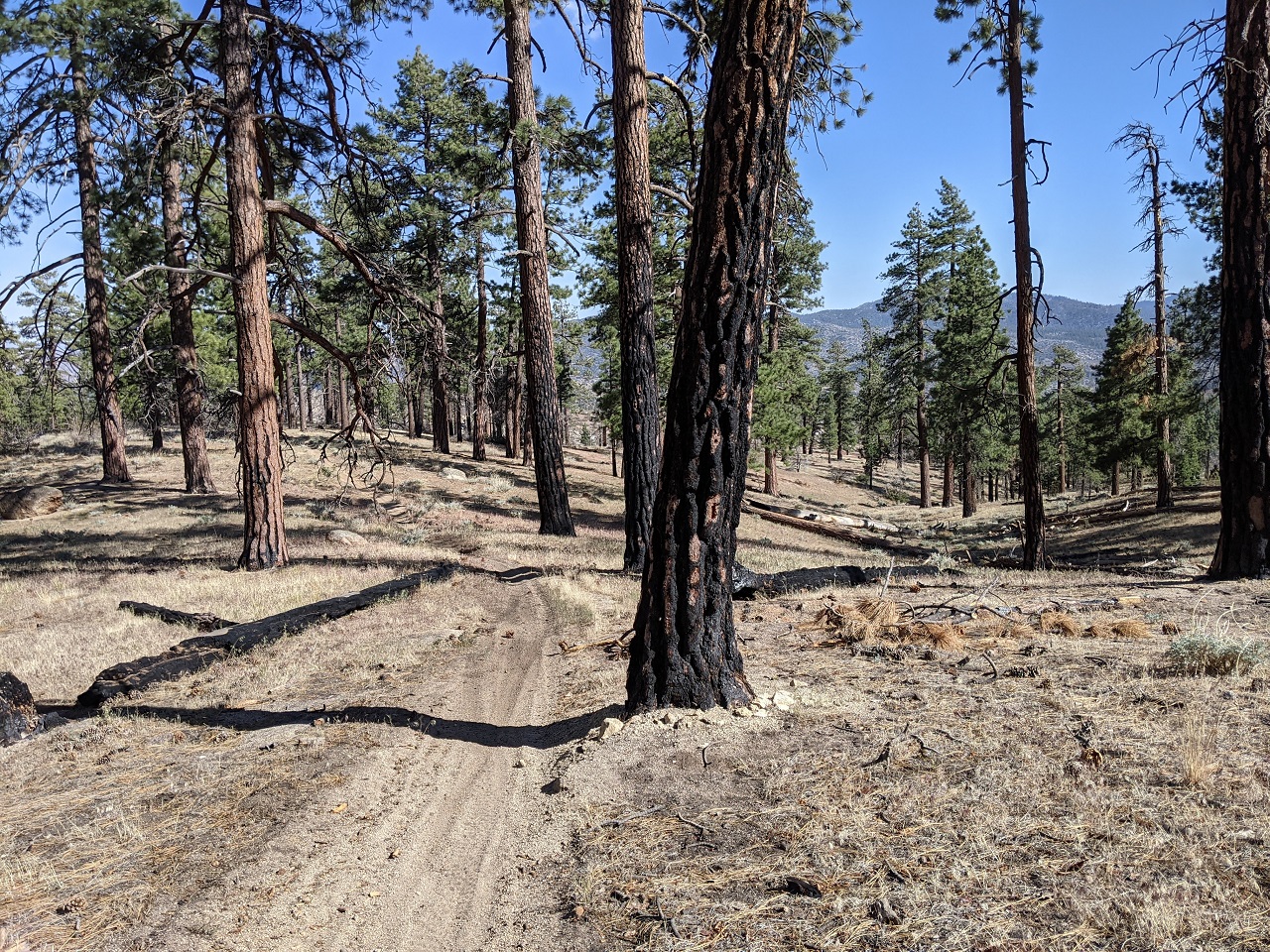 After dropping down and another short hike a bike up to a plateau there was a long section of nice rolling singletrack.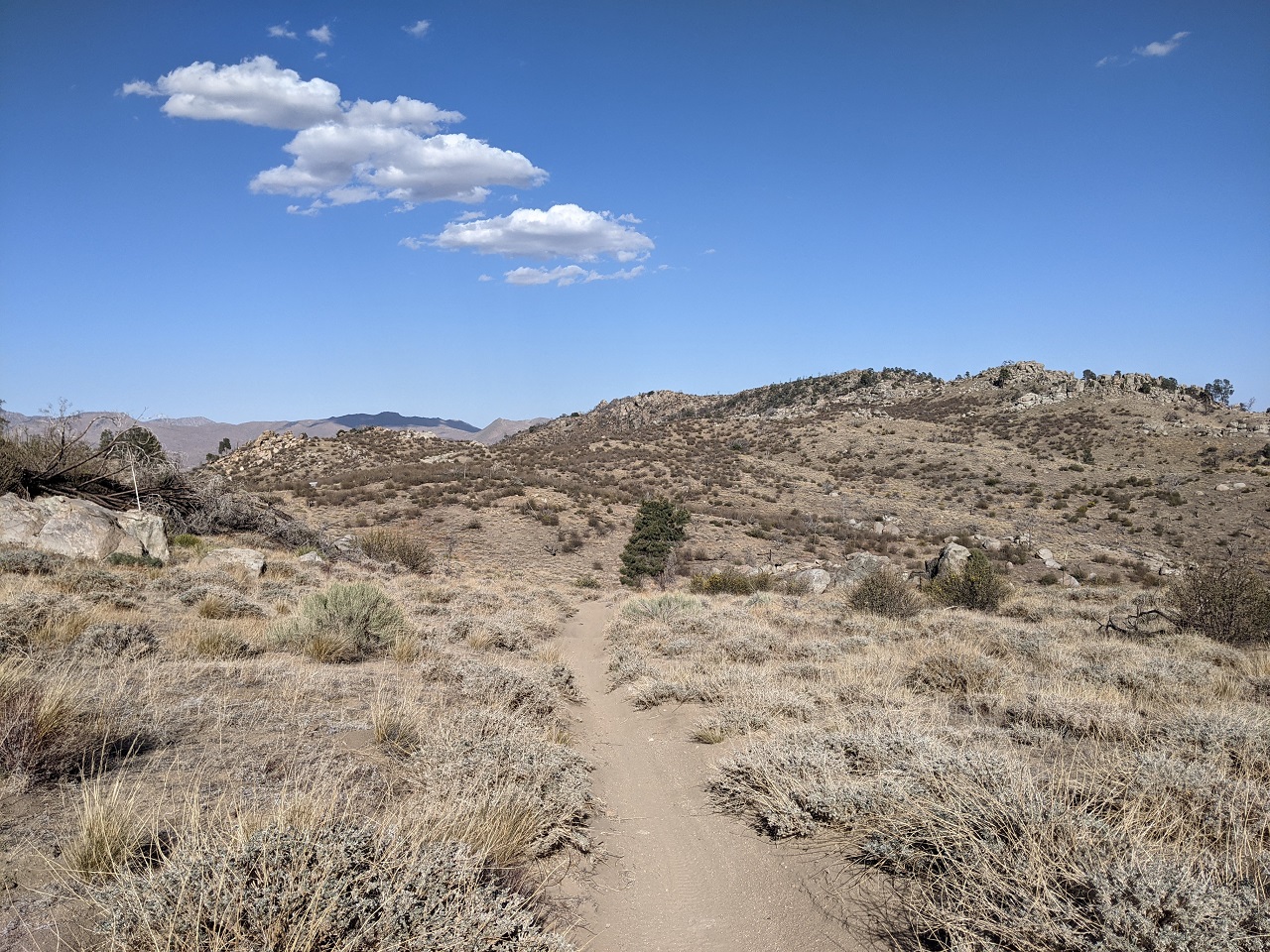 If I can't find poison oak, I can probably find poodle dog bush. It's toxic to many people and can cause severe reactions. Fortunately the motos had beat it back so it wasn't over-hanging the trail.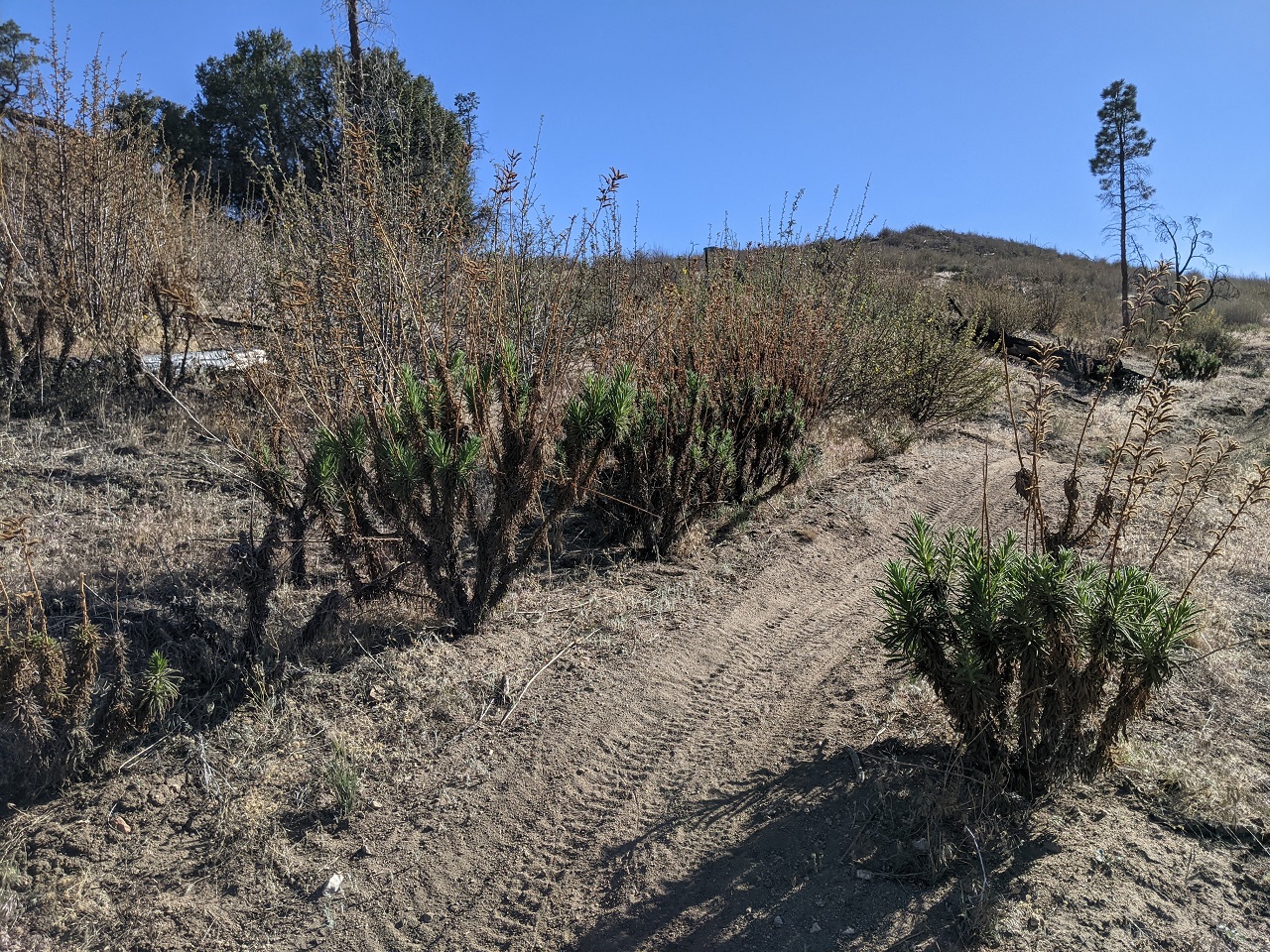 Starting to descend for good. There were some super steep sections and lots of sand.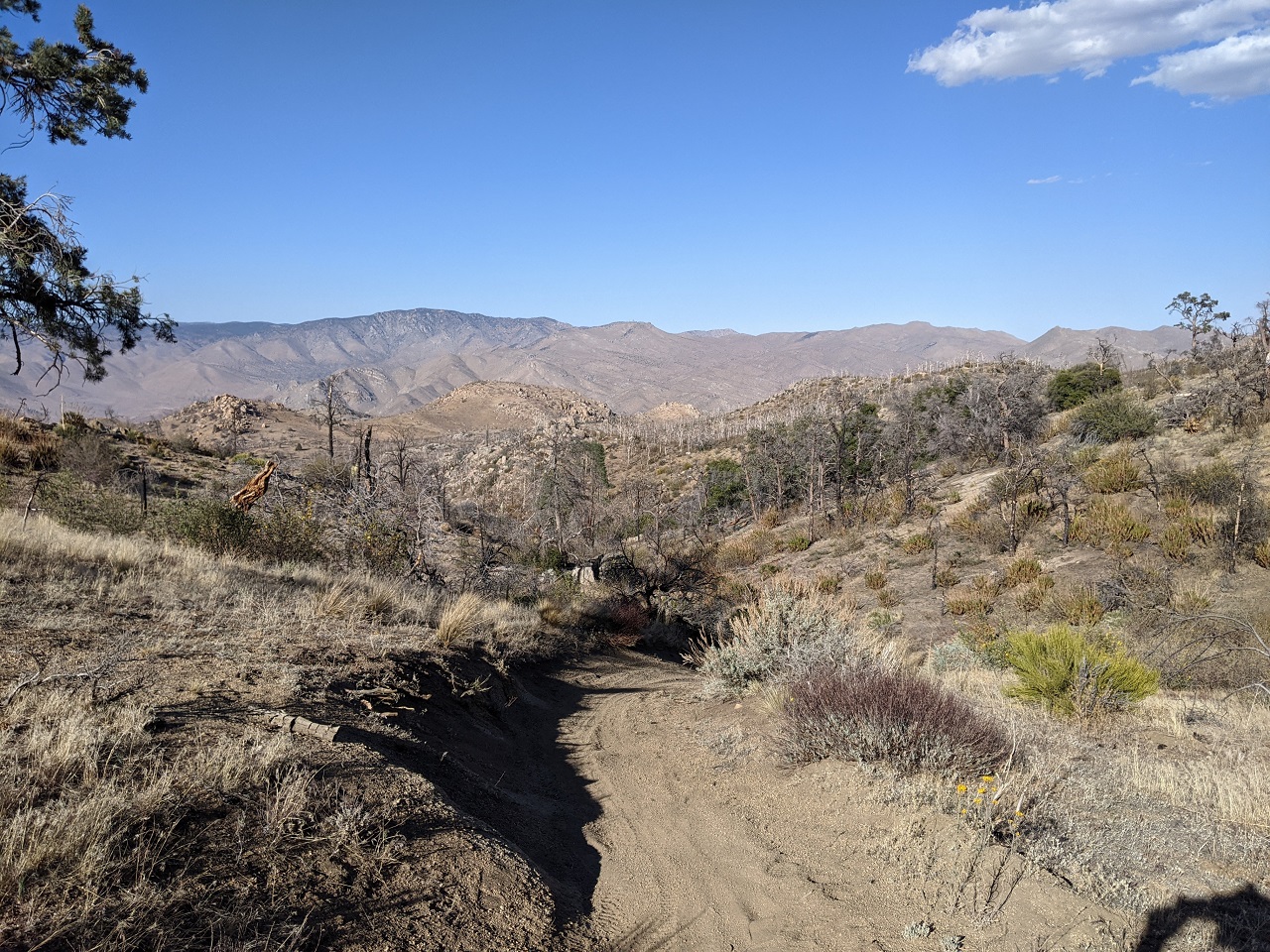 Heading all the way down to the valley bottom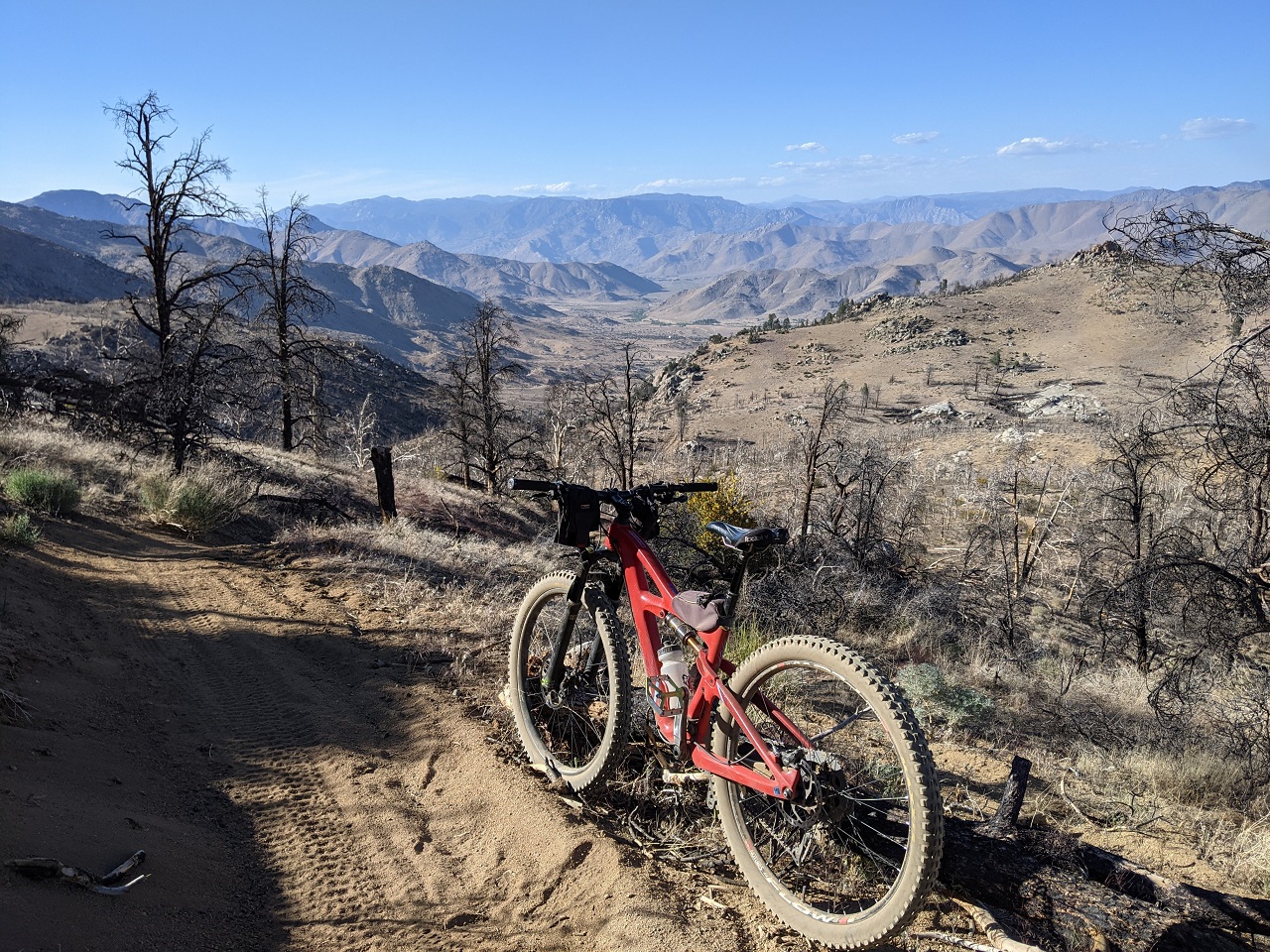 At one point the singletrack opened up to fire road width, and was covered in a bed of deep sand the rest of the way. Fortunately it was steep enough to be rideable. I would not want to climb this.
Truck is parked just beyond the green patch which is a residential development.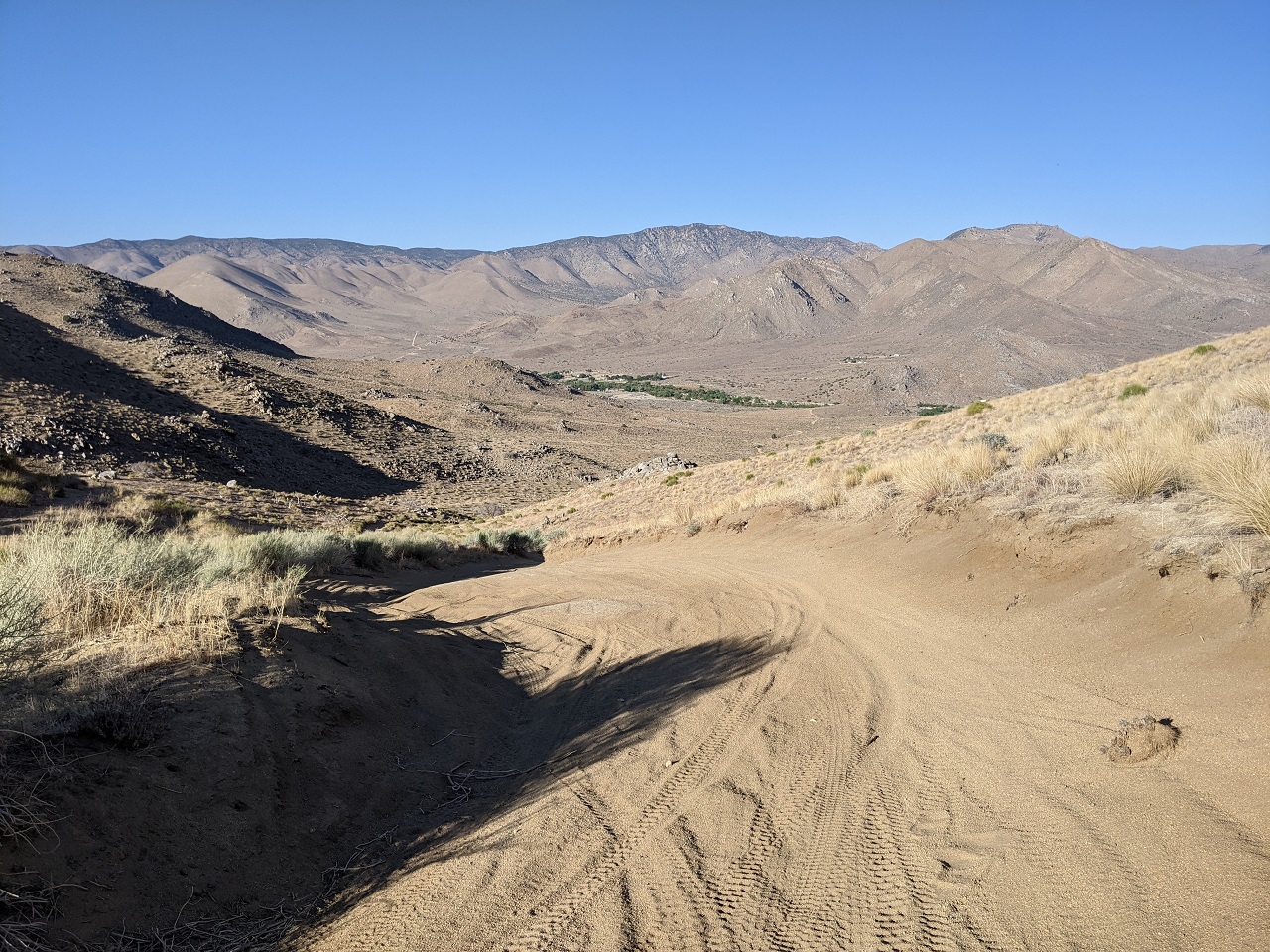 Toes like this are the mark of a solid ride.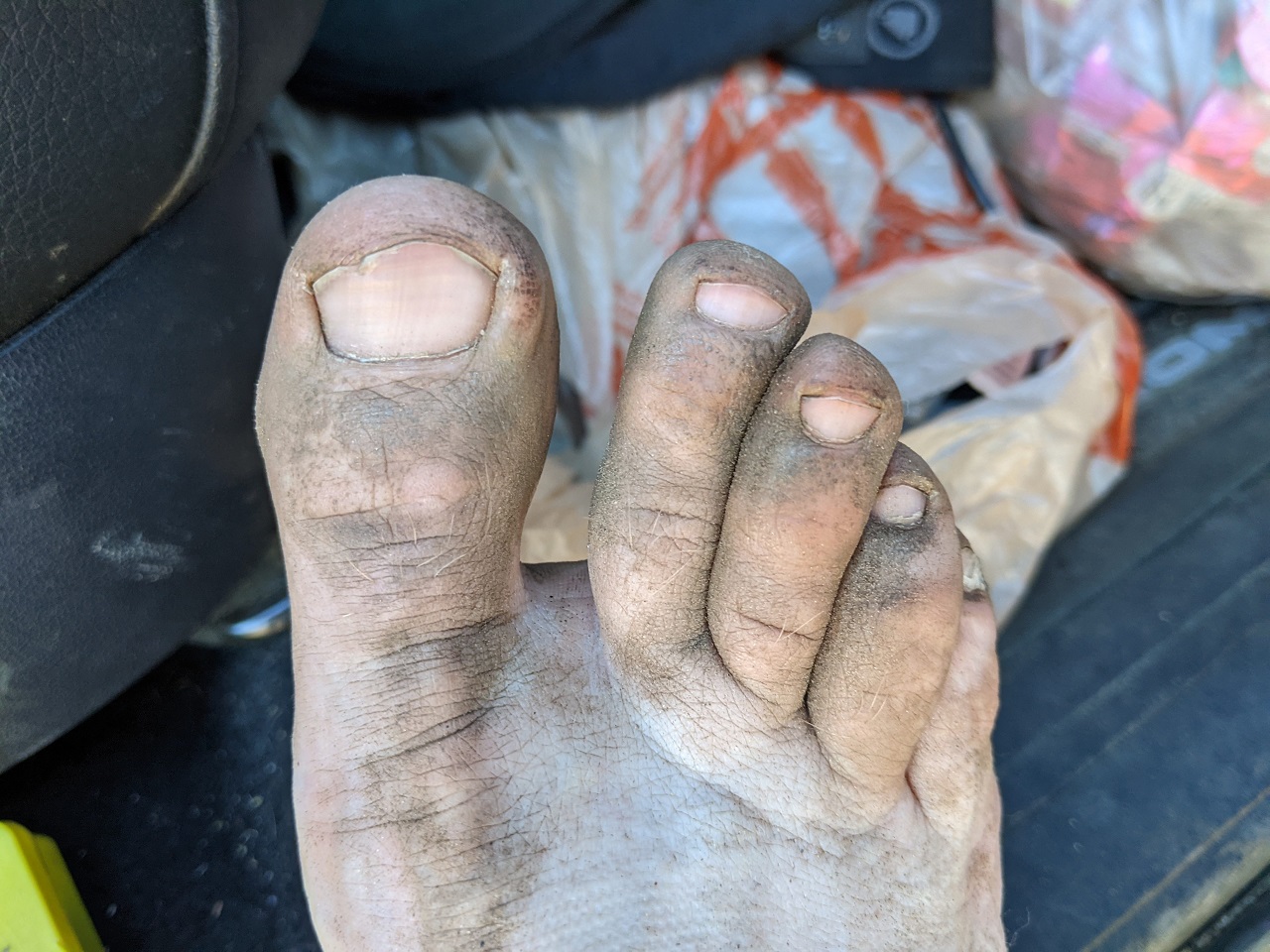 The final descent on sandy road was kinda fun, but also a let down. Par for the course out here though. The upper trail was pretty good aside from a few long/steep hike a bikes. I was impressed how good condition a lot of the trail was considering how remote it is. Lots more to come back and explore. I think there could be some good loops up top.
31.5 miles, +4,070/-8,150ft